(updated
2012-Dec-23
)
Jovian Extinction Event (JEE) Main Page
Modeling the Jovian dust field, moon atmospheres, flux tubes and Io's Torus through JEE
Principle Investigator: Scott Degenhardt scotty@scottysmightymini.com
<![if !vml]>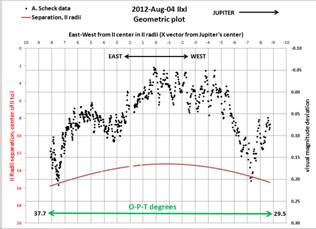 <![endif]>            <![if !vml]>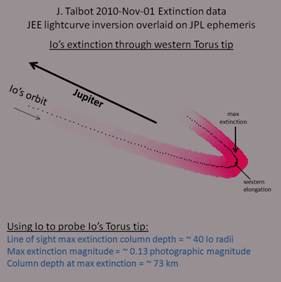 <![endif]>           <![if !vml]>
<![endif]>
NEW! Join the JEE Yahoo Discussion Group
Subscribe:
JEE_Talk-subscribe@yahoogroups.com

Unsubscribe:
JEE_Talk-unsubscribe@yahoogroups.com
Predictions of window of opportunities of Jovian Extinction Events in PDF format:
(NOTE: If you downloaded predictions prior to November 4, 2012 you will need to download the new and improved Version 2)
JEE2012
JEE2013
JEE2014
Conjunction JEE  Window of Opportunities potentially measuring moon atmospheric dust, flux tubes, occultations, eclipses, and stellar conjunction timings:   http://scottysmightymini.com/JEE/CJEE.htm
Self extinction of Io as it traverses the tips of the Torus Tips of Io: http://scottysmightymini.com/JEE/ITTJEE.htm
Extinction of objects as they pass behind Io's Torus Tips:
under construction
JEE FAQ:  http://scottysmightymini.com/JEE/JEE2012_FAQ.htm
Archived predictions:
Complete prediction kit through Aug 2012: http://scottysmightymini.com/JEE/JEE2012_Jun_Aug.zip
Summary table of events through Aug 2012:  http://scottysmightymini.com/JEE/JEE2012_Jun_Aug_Table.htm
** Preliminary RESULTS of all JEE Observing Programs **
http://scottysmightymini.com/JEE/results/
JEE2013 Call for Observers
As Jupiter's orbit ever so slowly closes towards edge on in late 2014, JEE events will have ever smaller separations between the Jovian moon conjunctions and near eclipses. JEE2012 showed us once again what all past observing Campaigns have shown, we are in unchartered territory and surprises in our lightcurves abound and need much more additional data.
2013 opens up with what I like to call the "Quarter of Io". The geometry of the conjunctions of Io and Europa are such that starting in January and leading up to the April 4th UT conjunction of I-II the separations will get so close that we may skim the upper atmosphere of Io with extinction measurements. Using Europa as the probe for Io's surrounding dust and gas field we will look for dimming as Europa passes behind Io line of sight to within 8 Io radii where we measured Io's extinctive part of its atmosphere to in IAEP2009 and JEE2010. Add to that the excitement of JEE2012 showing us all new anomalies that may be material streaming through the flux tubes of moons connected to Jupiter's poles, we may get repeated measurements of this new anomaly with this fortuitous close geometry. Pay special attention in the predictions for all events where I is in front and II is in back.
After the April 4th I-II conjunction I and II begin separating in distance of their closest approach with each conjunction until later when Jupiter's orbit closes more. But then the Summer of 2013 belongs to Europa. Starting in early June Europa will be in front with Io in back being the probe for Europa's dust and gas, and the conjunctions will get within 20 Europa radii where we measured Europa's equatorial extinction to extend to. Starting in early June 2013 pay special attention in the predictions for all events where II is in front and I is in back.
Towards the end of 2013 every conjunction gets closer and closer until September of 2014 when the bodies of the moons actually occult each other and JEE data will be plentiful with each event. Record any part you can within a JEE event window of opportunity. Place high priority on events with smaller arc seconds of separation, especially when those separations are less than 20". These measurements outside of occultations as the bodies are further apart are still important for placing outer limits and boundaries on Jovian dust and gas distribution.
Remember also that Io transits its Torus Tip once a day and suffers self extinction during those tip transits.
You can get the latest discussions on JEE work on the new Yahoo JEE_Talk Discussion Group:
JEE_Talk-subscribe@yahoogroups.com
Predictions through 2014, past results, and additional information about how to observe and submit data of JEE can be found at:
http://scottysmightymini.com/JEE/
Scott Degenhardt
Santa Fe, NM  USA
Jovian Extinction Event Principle Investigator
http://scottysmightymini.com/JEE/
http://tech.groups.yahoo.com/group/JEE_Talk/
***JEE2012 Extended Call for Observers***
The initial JEE2012 Observing Campaign yielded new and repeatable anomalies. During this Campaign we were probing the outer limits of the atmosphere of Europa. We found initially that the expected extinction rates based on a 1st order assumption of a spherical distribution of dust did not exist in the north polar region of Europa. Instead of finding a linear type of extinction rate there were spikes in the dimming of the moon passing behind Europa that at the moment appear to potentially be caused by the walls of the flux tube(s) that connect Jupiter to Europa. In an effort to verify if the source of these brief dimming are from the walls of the flux tubes I have generated predictions through 2014 of what I am now calling "JEE Window of Opportunities". Using JPL ephemeris I have created a macro that tells me when any of the four major Jovian moons are within 30 radii of the moon closest to earth (i.e. in front) at the time of this conjunction. Since the orbits of the Jovian moon are not edge on until 2014 each of these conjunctions will allow us to trace out the flow tubes via extinction from far above each moon to the equator of each moon as we get close to edge on in. Then as the orbit of the moons opens up in the opposite orientation we will be able to use these conjunctions to trace out the flux tubes below the moons. These conjunctions will both validate the new anomaly source as the flux tubes and provide us new measurements, or it will refute this theory. Given the surprisingly brief minima of this new anomaly (on the order of a few minutes) it seems essential that all imaging be done via video, which provides streams of images instead of CCD which is usually spaced out over time and may miss one of these brief minima. But ANY images are accepted.
Also a surprise during the initial JEE2012 Campaign was that despite the 3 degree tilt in Io's orbit it still suffered extinction as it traversed the tips of its Torus. The extinction amount is less than when the Torus material is edge on, but it is still detectable. Io crosses either its eastern or western Torus Tip every single day, so endless opportunities exist to make these measurements. And as we go through edge on orbit in the following years we should see the amount of extinction peak at edge on and then diminish as the orbit of Io opens the other way. We also may have detected a pattern in the extinction that represents banding, or clumping of the material as predicted in some papers that might be there due to magnetic waves from Jupiter. These banding effects in the lightcurve are also on the order of 10 minutes from a peak to a minima, so high time resolution provided by video is valuable. Spectral data is highly desirable but will be difficult due to the very thin amount of material causing extinction. It would appear though that the Torus Tip extinction events are visible at all times every day of every year. So expect unending predictions of Io Torus Tip Jovian Extinction Events (ITTJEE).
** Preliminary RESULTS of all JEE Observing Programs **
http://scottysmightymini.com/JEE/results/
Publications, presentations, PR:
IOTA2012 Annual Meeting: presentation of JEE2012 Observing Campaign Preliminary Results:
http://scottysmightymini.com/JEE/JEE2012_PreliminaryResults_IOTA2012.zip
http://scottysmightymini.com/JEE/JEE2012_PreliminaryResults_IOTA2012.pdf (if viewing PDF one animation will not work. Click here to view animation)
Degenhardt, S. et. al (2010), Io and Europa Atmosphere Detection through Jovian Mutual Events, The Society for Astronomical Science: Proceedings for the 29th Annual Symposium on Telescope Science, p. 91-100 
http://scottysmightymini.com/JEE/SAS2010_Io_Europa_Degenhardt.pdf
2010 SAS Conference: Io and Europa Atmosphere Detection through Jupiter Mutual Events Power Point Presentation files:
http://scottysmightymini.com/SAS2010/SAS2010IoEuropaDegenhardt.zip
YouTube video in four parts of the SAS 2010 Power Point Presentation:
Part 1: http://www.youtube.com/watch?v=LJE_V9Jysto
Part 2: http://www.youtube.com/watch?v=0BFRpbTc748
Part 3: http://www.youtube.com/watch?v=02s4KIZ55NE
Part 4: http://www.youtube.com/watch?v=UECOxlFKLVI
Photo gallery (Equipment, faces, and fun!):
http://scottysmightymini.com/JEE/photos.htm (under construction)
JEE Schematic Diagram
<![if !vml]>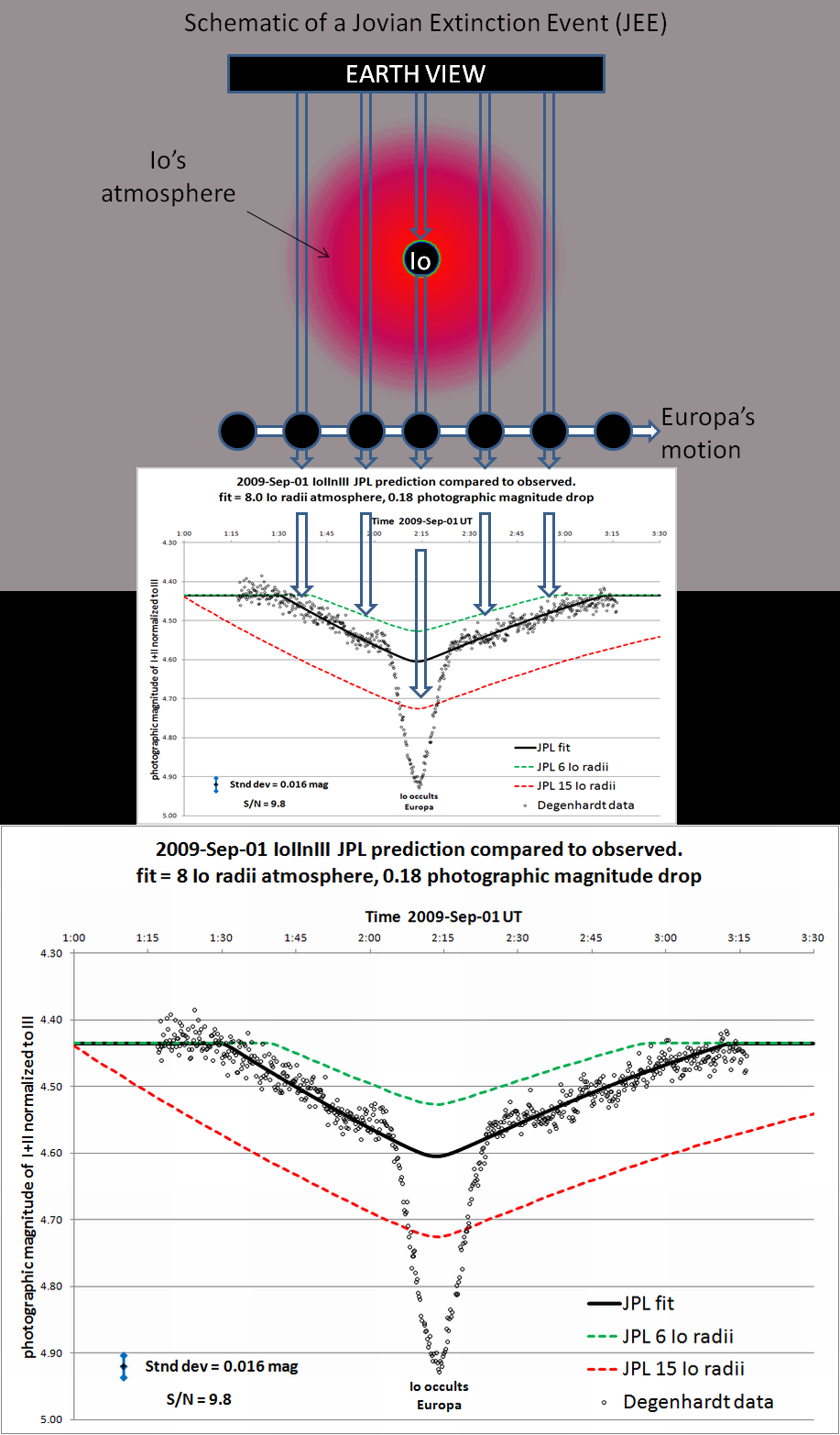 <![endif]>
<![if !vml]>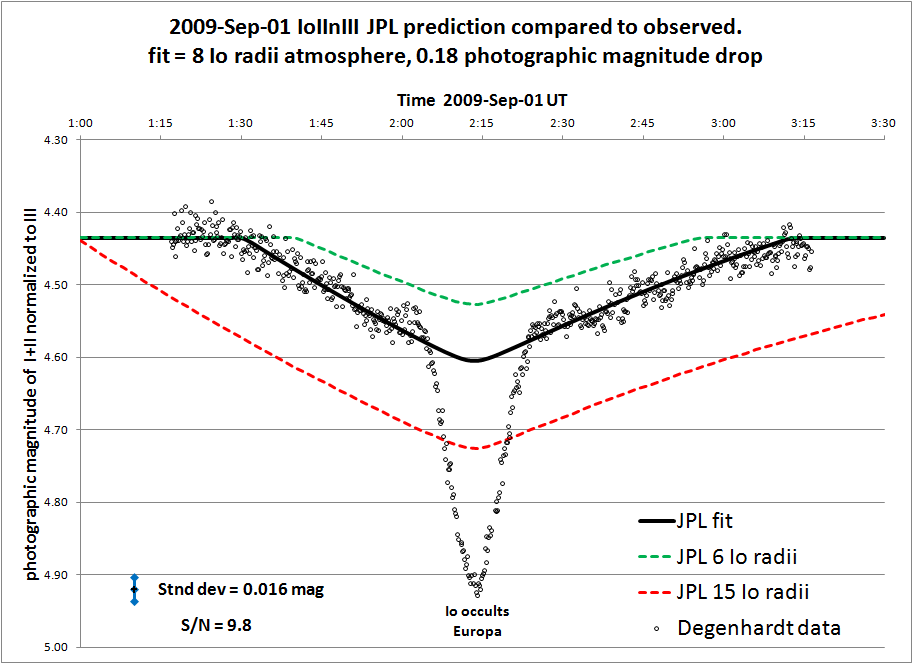 <![endif]>
Sample data set of a reduction from 2009-Sep-01 Io occultation of Europa.
Introduction

The next Jovian Mutual Event season (JME) is still almost two years away. But the interaction of the Jovian moons is upon us. In July and August there are multiple opportunities to record dimmings of Jovian moons via extinction of their light by the atmospheres of other moons and/or by the dust and gas material in the Torus of Io. Using a moon passing behind another moon, the light from the moon in the rear can be used to probe the material of the moon in front of it by measuring the loss of light or extinction of the rear moon's light via the material in front that it is passing behind.

Europa's atmosphere is documented to extend out to about 25 Europa radii from its surface. There will be numerous conjunctions, or close misses of Europa with Io and Ganymede over the next several months. These conjunctions do not involve occultation or JMEs. This means with the right magnification the two moons will remain separate light sources and not merge so that one can do photometry on each moon individually. these eliminate the problems of merging intensities (although when dealt with properly, merging intensities are not really a problem). Our previous study of JMEs and JEEs have shown that the source of dimming in these events is the moon that is behind the moon possessing a known tenuous atmosphere. The upcoming conjunction JEEs provide the best opportunity to document this extinction phenomenon and give rise to the possibility of inverting the lightcurve to produce a 3D model of the dust and gasses in the Jovian system.

Out at the tips of the Torus of Io the material in this torus is collimated to our line of sight from earth so that when Io is behind the tips it is experiencing the extinction from a 200 Io radii column of dust and gas. We have made past observations showing the dimming from this amount of material is detectable in amateur scopes.

JEE2012 is a great opportunity for amateur and professional astronomers to work together to accomplish something no one thought was possible. That is to actually detect and measure the tenuous atmospheres surrounding some of the moons of Jupiter as well as this same material that is captured in a torus ring around Jupiter, called the Torus of Io. The most exciting aspect of this project is since the moons of Jupiter are bright compared to most astronomical endeavors, the JEE work can be done in the smallest of telescopes, putting the ability to accomplish a real scientific measurement in virtually anybody's hands. We have documented measurements of Io's atmosphere in a small 80mm finderscope. Thus even the simplest amateur astronomer can perform some of the same measurements that our space probes have done flying out to Jupiter, and at a significant fraction of the cost.

A complete current prediction kit through Aug 2102 is available here:



http://scottysmightymini.com/JEE/JEE2012_Jun_Aug.zip

It is important to note that I have developed a better prediction method which gives one a predicted lightcurve so one has a basis to know when and how long to observe. It is also important to notice that many of the upcoming events are 6 to 10 hours long and Jupiter is not currently visible for that long in any one location. So it will be important to get as many observations as possible from different locations in order to make a complete lightcurve.
Jovian Extinction Event Predictions:
Scott Degenhardt  June 15, 2012
Send data correspondence to scotty@scottysmightymini.com
http://scottysmightymini.com/JEE/
Predictions Excel macro program:
Ephemeris Source:
     http://ssd.jpl.nasa.gov/horizons.cgi
Solar System Dynamics Group, Horizons On-Line Ephemeris System
     4800 Oak Grove Drive, Jet Propulsion Laboratory
     Pasadena, CA  91109   USA
     Information: http://ssd.jpl.nasa.gov/
     Connect    : telnet://ssd.jpl.nasa.gov:6775  (via browser)
                  telnet ssd.jpl.nasa.gov 6775    (via command-line)
     Author     : Jon.Giorgini@jpl.nasa.gov
Stellar JEE occultation predictions using Occult 4, Herald, D. et. al
Jovian Moon Configuration Graphic:
     Guide 8 by Bill Gray
Other Modeling tools:
Starry Night 2007
Orion Special Edition
https://support.simulationcurriculum.com/home
     Microsoft Excel macro developed by Scott Degenhardt
The IAEP team and data from that study:
Scott Degenhardt, S. Aguirre, M. Hoskinson, A. Scheck, B. Timerson
International Occultation Timing Association (IOTA)
D. Clark
Administaff/Humble ISD Observatory
T. Redding
IOTA, Redding Observatory South
J. Talbot
RASNZ Occultation Section
Return to scottysmightymini page